The Fungus Among Us
STump Puffball
Stump Puffballs are edible when they are white. When they turn tan to brown in color, they should not be eaten. There are many reports that the flavor is unremarkable and their fragrance is unappetizing.
Like other puffballs, a small hole will appear in the top of the mushroom when it matures. It will send out the entertaining mushroom clouds of spores in hopes of starting another mycelial colony elsewhere suitable for growth.
Previous Fungi
Common puffball
Orange Mycena
These mushrooms have gills for the reproductive surface. The way that the gills attach to the stem is called "adnex". This means that they are narrowly attached to the stem
Golden spindles
Clavulinopsis fusiformis, commonly known as the Spindle Coral Fungus or Golden Spindles, is a distinctive species of coral fungus found in various parts of the world including Iran, Nepal, Japan, Europe and North America. Belonging to the family Clavariaceae, this fungus is known for its striking appearance, which resembles a cluster of miniature coral formations sprouting from the forest floor. The fruiting bodies range in color from pale yellow to vibrant orange making it comparatively easy to find in the wild.
Indigo Milk Cap Mushroom
The beautiful indigo blue color is not only on the outside but you will find it inside when you cut this mushroom.
You can see that the cap has indigo colored concentric rings. The fertile surface is gills. This mushroom will show signs of bruising if you pinch it. Like all Lactarius mushrooms, it will exude latex when cut or damaged.
The Indigo Milk Cap is a mycorrhizal fungus that associates with a wide variety of trees promoting healthy forests.
Dyer's Polypore
Its ecological role is a wood-decayer. It is ususally found growing on the trunks and fallen logs of hardwood trees. The Dyer's Polypore contributes to nutrient cycling in forest ecosystems, as all saprobes do. This puts valuable nutrients back into the soil and facilitating the recycling of organic material.
Beyond its ecological significance, Phaeolus schweinitzii has also captured the interest of artisans and traditional craftspeople due to its historical use as a natural dye source. The fungus yields a range of vibrant yellow and orange pigments that can be extracted and used to dye fibers, fabrics, and paper. This cultural and historical connection adds an extra layer of intrigue to the appreciation of this captivating mushroom species, illustrating the diverse ways in which fungi benefit humankind.
The Black Staining Polypore
Lobster Mushroom
Caesar's Mushroom
Velvet Foot Mushroom
Enoki mushrooms pictured above are cultivated in the dark so they are albino. They are delicious little mushrooms with a host of medicinal benefits from immune boosting to anti cancer to curative properties for liver diseases and gastroenteric ulcers. For a real treat, try frying them.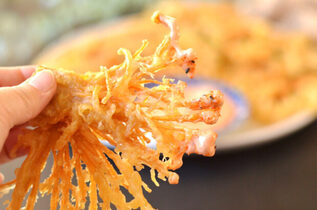 ---
Common earthball
Chanterelle Mushrooms
The JOY OF cooking...mushrooms
Anyone who has ever watched fresh mushrooms turn bad in the fridge will appreciate the longer storage time of dried mushrooms. They will store indefinitely if kept in a sealed, cool, dark place. After many months, they may lose a little of their flavor. Just simply add more to the recipe.
Using dehydrated mushrooms reduces waste and gives many a chance to taste mushrooms they may not have fresh access to. Morel mushrooms have not been successfully cultivated commercially and only occur for a brief time in the spring. Luckily, dehydrating them makes them available in other seasons.
The death cap mushroom
Chicken of the Woods
Hemlock Varnish Shelf/Reishi

Plums and Custard Mushroom
The Devil's Urn Mushroom
Wine Cap Mushrooms
Wine caps are native to North America and Europe. You find them typically growing in gardens, meadows, and woodlands. The mushroom has a distinctive reddish-brown cap that can reach more than 12 inches in diameter and a thick stem. The gills of the mushroom are initially purple, but as they mature, they become a deep chocolate brown. The spore print is dark purple brown to almost black. This mushroom does have a veil that turns into a ring around the stem. We call this ring an annulus. When the Wine Cap is pulled, you will find large threads that resemble roots. These are called rhizomorphs.
If you are interested in growing Wine Caps, now (spring) is the time to start them. You can build a bed with four logs for sides (bonus points if those logs are inoculated with Shiitake mushroom spawn). Lay cardboard over the ground. Remove any tape or staples if necessary. Then add a 4-6 inch layer of sawdust, wood chips and/or straw. Break up spawn and sprinkle over the layer of substrate.
Geotropism, also known as gravitropism, is the response of fungi to the force of gravity. This is how fungi maintain their orientation and grow in the correct direction. With fungi, geotropism is especially important during the formation of the fruiting body. Mushrooms need grow in the upright position to ensure successful spore dispersal.
Good luck!
Tulip Poplars have flowers in the canopy.
One unique aspect of mica cap mushrooms is their tendency to self-digest as they age. As the cap of the mushroom matures, it begins to liquefy and turn black, a process known as autodigestion. This process can occur rapidly. Some mica cap mushrooms can be fully digested within a few hours of emerging from the ground. This "inky" goo can be mixed with water and used to draw pictures or write poetry about mushrooms.
Scarlet Elf Cups are edible and lend themselves to interesting presentations by filling them up with meats, herbs or more mushrooms. The stunning red color can brighten up any dish. As always, we caution you to never eat a mushroom unless you are 100% sure that it is safe.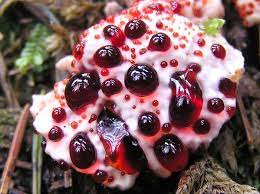 ---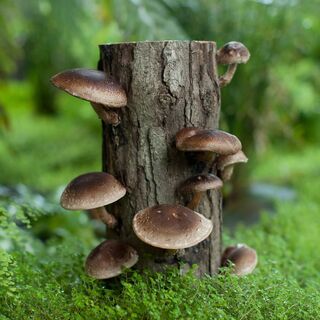 ---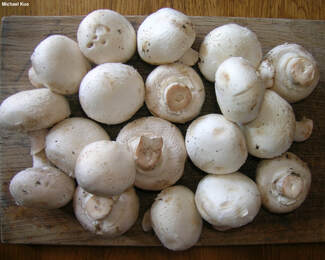 ---
---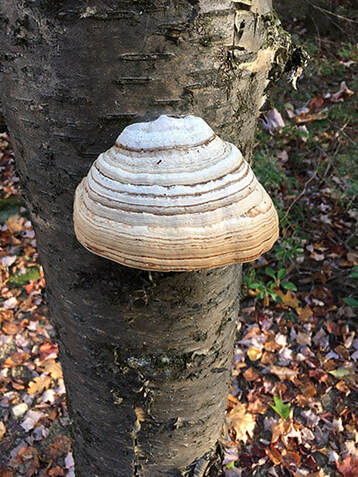 ---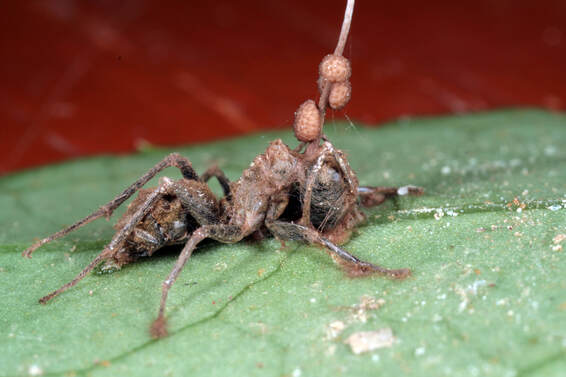 ---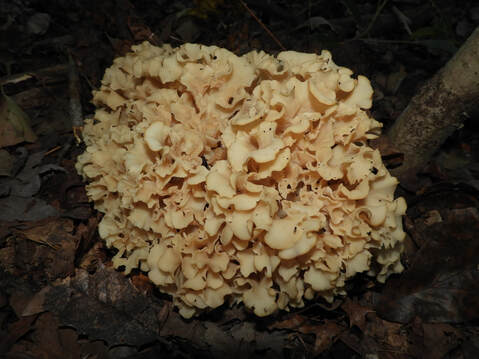 ---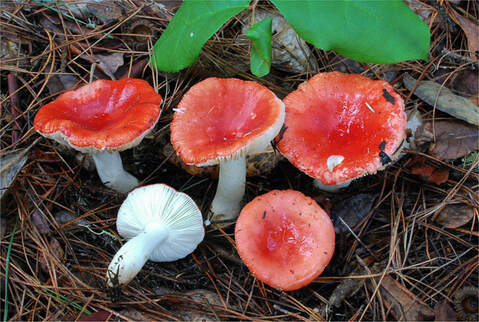 ---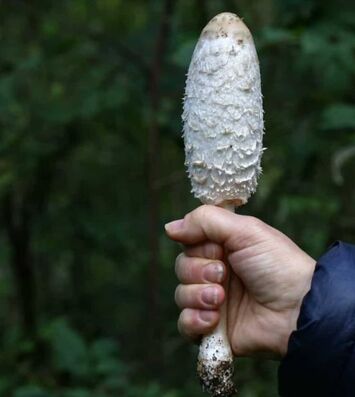 ---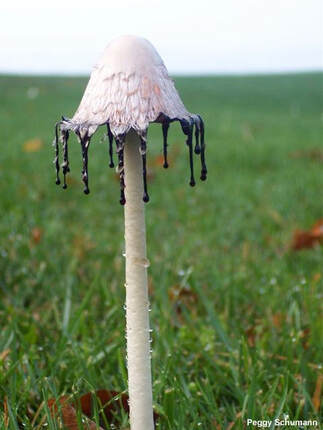 ---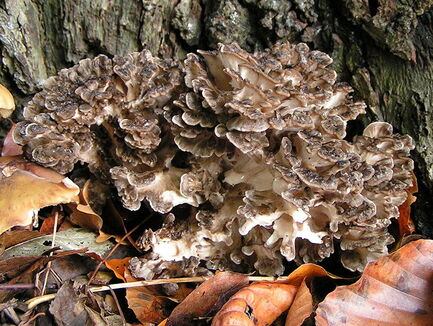 ---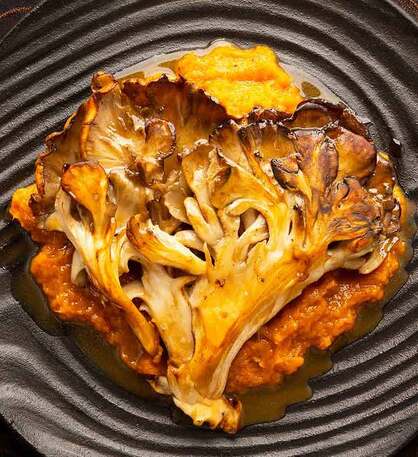 ---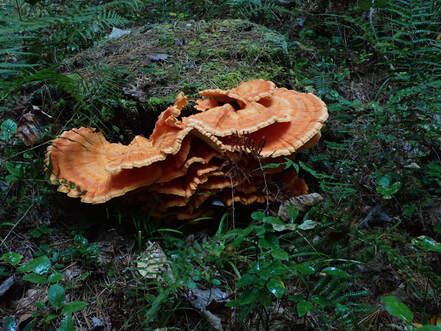 ---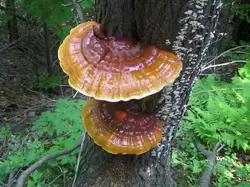 ---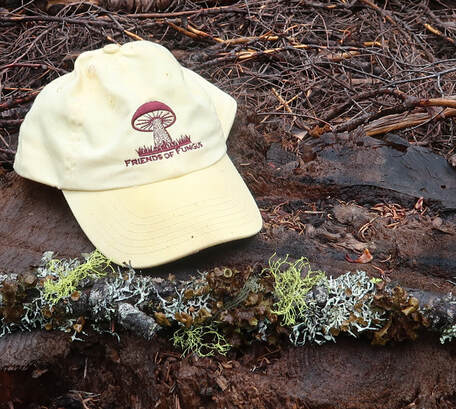 ---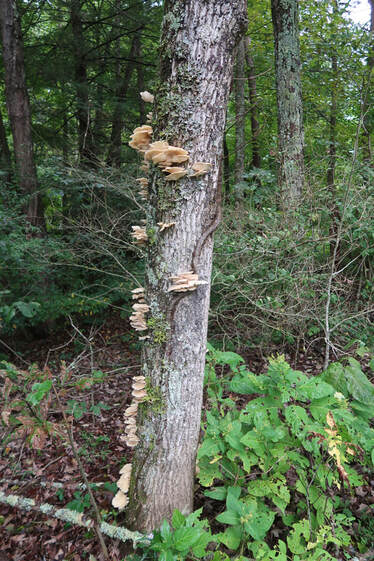 ---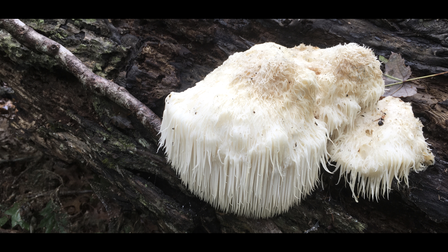 ---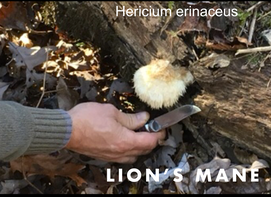 ---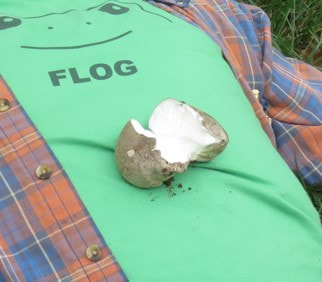 ---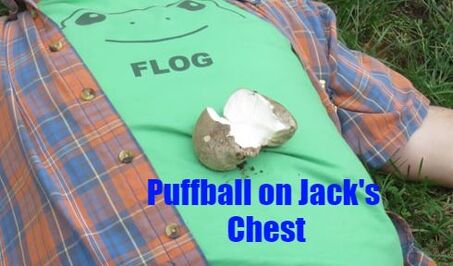 ---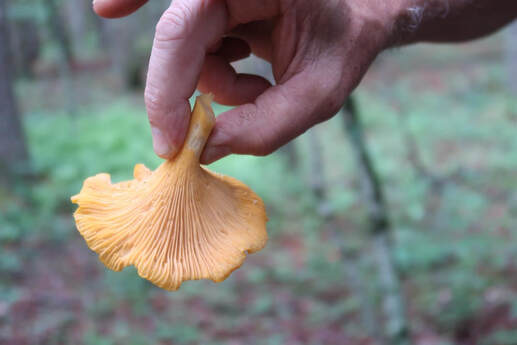 ---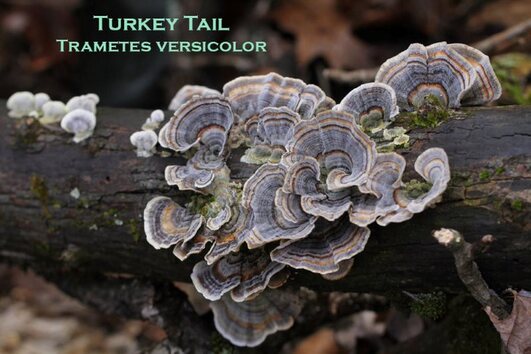 ---